The movement #Never Stop Playing Sports promoted by NPO Never Stop Playing Sports (Based in Shinjuku, Tokyo with Representative Director Takeshi Nozawa) is being nominated for the Laureus World Sports Awards, specifically the Laureus Sporting Moment Award, which is awarded to the most moving and inspiring moments in sports.
On this occasion, Never Stop Playing Sports' Co-Representative Director, Toshiro Hirose (Former Japanese National Rugby Team Member) and Laureus Academy Member, Bryan Habana (Former South African National Rugby Team Member) held an online event promoting the Laureus Sporting Moment Award.
The two discussed memories from their rugby careers, the rugby community's issues, advocation of social progress through sports, and activism by athletes.
Upon introducing the #Never Stop Playing Sports movement, three high school students participating in the project: Kounosuke Shiga from Hakodate La Salle Senior High School; Koyuki Matsushita from Otemon Gakuin Senior High School; and Shohei Fujita from Keio Senior High School, joined the event and interviewed the two former rugby players.


Questions from the Students
What is important to you in your life? (Koyuki Matsushita: Otemon Gakuin Senior High School)
Answer from Bryan Habana
Staying positive—whatever your situation was yesterday, to think that it is a new day when you wake up. By being positive, I believe others around me, the people I talk to, become positive. So, I would like people to remind themselves to be positive when they wake up.
What do you think about ordinary life being lost due to the pandemic? (Kounosuke Shiga: Hakodate La Salle Senior High School)
Answer from Bryan Habana
Maybe, some people had to give up their dreams of becoming a professional sports player due to the pandemic.
The Tokyo Olympics have been postponed for a year. Some athletes had their competitions cancelled, which they had been training hard to compete in.
I think the pandemic taught us to adapt and prepare ourselves for change constantly.
I feel sorry for those who lost their chances, but people who can adapt to change are the ones who are thriving despite the pandemic.
I think you cannot meet your teammates as much as you want due to the pandemic, but how do you usually interact with your teammates? (Shohei Fujita: Keio Senior High School)
Answer from Bryan Habana
There is a principle I was taught when I was young. That is to respect others if you want to be respected by them. Sometimes, you might feel that people are not respecting you. But just as it is essential to wake up feeling positive, it is important to respect yourself.
As a professional player, I know how hard people train and how difficult that is. That is why I respect others and why it is important to respect others, regardless of their age.
The great thing about rugby is that it is a sport that anyone could play, regardless of their height or speed. Different types of people with different strengths all play together for the same goal; that is the wonder of rugby. People working together for the same purpose leads to success. I might even say it promises success. That is what I love about rugby. By sharing a sense of solidarity, we build friendships that extend way beyond the lockers and the pitch.
Co-Representative Director Hirose commented on the spread of the #Never Stop Playing Sports movement during the event. "I was thrilled to know that people around the world were interested in the movement, especially because our movement only focused on the Japanese domestic community". Bryan Habana replied:
I think "what #Never Stop Playing Sports is doing is terrific; it teaches people lessons that are not only useful in sports but could be used as a guide throughout life. It is vital to help people focus on sports and supporting young athletes in advancing their careers.
I am part of a similar initiative, so I also understand how difficult this is. We are all facing difficulties now, but the platform #Never Stop Playing Sports has created should become a powerful tool in combatting this challenge.
The event ended with the two former players discussing what athletes and sports could do to impact the world positively and what powers sports had to change society.
Public voting on the Laureus Sporting Moment Award is ongoing. The award is the only award within the Laureus World Sports Award that is decided by votes from sports fans all around the world.
You can vote from the following link: https://www.laureus.com/ja/sporting-momentshttps://www.laureus.com/ja/sporting-moments
Never Stop Playing Sports thanks all members and supporters for creating this opportunity for our movement to reach the public. Never Stop Playing Sports promises to continue further and expand our activity to support student-athletes. We would very much appreciate your vote for our movement.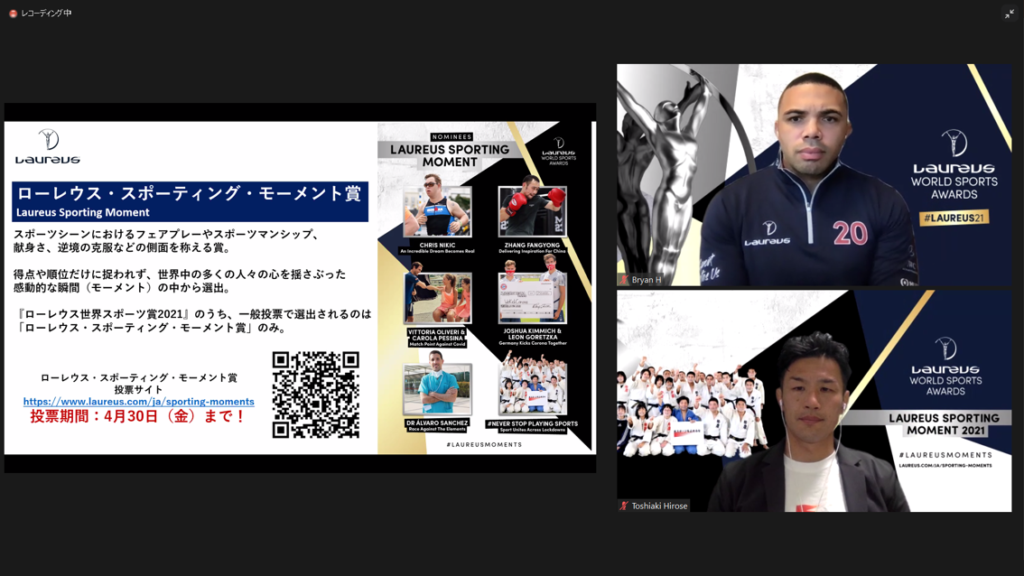 Bryan Habana
Bryan Habana is a rugby legend. Scoring a record 15 tries during the Rugby World Cups, he is one of the best try scorers in the world.
Bryan played in three Rugby World Cups in 2007, 2011 and 2015.
In the 2007 Rugby World Cups, he scored eight tries throughout the tournament leading his team to win the Webb Ellis Cup. He was chosen as the Most Valuable Player of the year by World Rugby (as the International Rugby Board then). He retired from professional rugby in 2018.
Bryan became a Laureus Ambassador in 2009 and joined programmes all over the world for over a decade, promoting the institution's mission and fundraising for programmes.
In 2020, he became a member of the Laureus World Sports Academy, joining a legion of sporting legends and stars worldwide.
■About Laureus
Laureus is an international organisation advocating social progress through sports, aiming to "Stand up to the problems in society with the power of sport, and spread the power of sport throughout the world".
Its motto is inspired by Former South African President Nelson Mandela, a patron of the organisation since its foundation.
The speech he made in the first edition of the awards describes the organisation's belief best: "Sport has the power to change the world". The organisation's mission is to tackle social issues, such as prejudice, discrimination, and violence, by using the power of sport and promoting sports' joy through such activities.
The organisation supports over 200 projects in over 40 countries and regions around the world, with the help from Laureus Ambassadors, which the world's top athletes and legendary athletes are members,
Japanese Ambassadors include Shinji Kagawa (Football Player), Ai Sugiyama (Former Tennis Player), Kohei Uchimura (Olympic Gymnastics Champion), Yuko Arimori (Olympic Marathon Medalist) and Dai Tamesue (Former World Championships Sprinter).